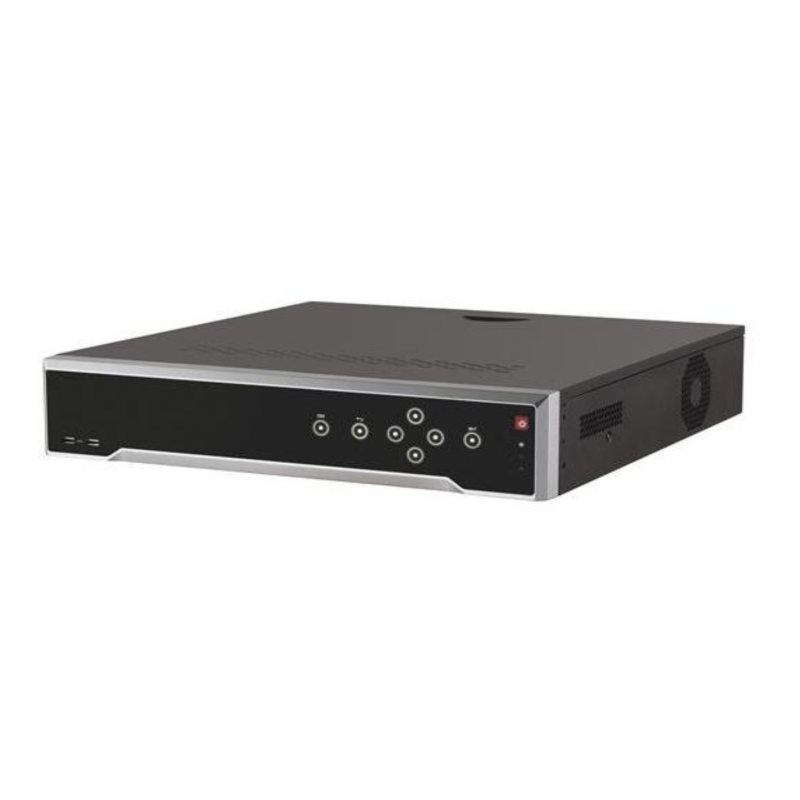 32 CH- NETWORK VIDEO RECORDER
Introduction:
NVR-3201-k4 (Network Video Recorder) is a new generation recorder developed by Eyeview independently. Combined with multiple advanced technologies, such as audio and video encoding & decoding technology, embedded system technology, storage technology, network technology and intelligent technology, it can both work alone as a recorder and cooperate with other device to build a comprehensive surveillance system.
The NVR-3201-k4 can be widely applied in the areas of finance, public security, military, communication, transportation, education, etc..
Main Features:
- Connectable to the third-party network cameras like ACTI, Arecont, AXIS, Bosch, Brickcom, Canon, PANASONIC, Pelco, SAMSUNG, SANYO, SONY, Vivotek and ZAVIO, and cameras that adopt ONVIF or PSIA protocol.
- Support live view, storage, and playback of the connected camera at up to 12 megapixels resolution.
- Simultaneous HDMI and VGA at 1920 × 1080 resolution.
- New GUI and support starting record with one key.
- Redundant recording, holiday recording and capture schedule configuration.
- Realize instant playback for assigned channel during multi-channel display mode.
- Up to 16-ch synchronous playback at 720P resolution.
- Smart playback to quick get through the less effective information.
- Customization of tags, searching, and playing back by tags.
- Locking and unlocking record files.
- Support HDD quota and group modes; different capacity can be assigned to different channel.
- Up to 4 SATA hard disks and 1 eSATA disk can be connected, for both recording and backup.
- Either normal or hot spare working mode is configurable to constitute an N+1 hot spare system.
- 1 self-adaptive 10M/100M/1000M network interface.
- Support Channel-zero encoding, which enables you to get a view in the remote client or web browser of all the channels in one screen.
- Support network detection, including network delay, packet loss, etc.
Adopt pioneering dual-OS design to ensure the security of system running.
Specifications:
Model

Model

NVR-3201-K4

Video/Audio input

IP video input

32-ch

Two-way audio

1-ch, BNC (2.0 Vp-p, 1kΩ)

Network

Incoming bandwidth

256Mbps

Outgoing bandwidth

160Mbps

Remote Connection

128

Video/Audio output

Recording resolution

8MP/6MP/5MP/4MP/3MP/1080p/UXGA/720p/VGA/4CIF/DCIF/2CIF/CIF/QCIF

HDMI output

1-ch, resolution:

4K (3840 × 2160)/30Hz, 2K (2560 × 1440)/60Hz, 1920 × 1080p/60Hz, 1600 ×
1200/60Hz, 1280 × 1024/60Hz, 1280 × 720/60Hz, 1024 × 768/60Hz

VGA output

1-ch, resolution:

1920 × 1080P /60Hz, 1600 × 1200 /60Hz, 1280 × 1024 /60Hz, 1280 × 720 /60Hz, 1024 × 768 /60Hz

Synchronous Playback

16 Ch

Audio output

2-ch, BNC (Linear, 600Ω)

Decoding

Live view / Playback resolution

12 MP/8MP/6MP/5MP/4MP/3MP/1080p/UXGA/720p/VGA/4CIF/DCIF/2CIF/CIF/QCIF

Capability

32-ch@720P, 8-ch@1080P

Hard disk

SATA

4 SATA interfaces for 2 HDDs + 1 DVD-R/W (default), or 4HDDs

Capacity

Up to 6TB capacity for each HDD

External interface

Network interface

1 RJ-45 10 /100 /1000 Mbps self-adaptive Ethernet interface

Serial interface

RS-232; RS-485; Keyboard

USB interface

3 × USB 2.0

Alarm in

16

Alarm out

4

Others

Power supply

100 ~ 240 VAC, 6.3 A, 50 ~ 60 Hz

Consumption

(without hard disk or DVD-R/W)

≤ 45W

Working temperature

-10 ºC ~ +55 ºC (14ºF ~ 131ºF)

Working humidity

10 % ~ 90 %

Chassis

19-inch rack-mounted 1.5U chassis

Dimensions

(W × D × H)

445 × 390 ×70 mm ( 17.5"× 15.3" × 2.8")

Weight

(without hard disk or DVD-R/W )

≤ 4 Kg (8.82 lb)